2022 AAEC Convention
Once again the AAEC is teaming up with Cartoon Crossroads Columbus and the Billy Ireland Cartoon Library and Museum for our annual convention this year.
The Association of American Editorial Cartoonists will again be part of the CXC Festival in October in Columbus, Ohio. While CXC is free and open to the public, registering for our convention gets you into AAEC-only events, private receptions, and access to our exhibitor tables in the Expo & Book Fair on Saturday & Sunday.
Please note: CXC Festival programming does not reflect everything on our schedule, and this AAEC program does not cover all CXC events. 
2022 Final AAEC Schedule
THURSDAY 10/6/22
Thursday, Oct. 6, will be light on AAEC-specific content. The AAEC Board of Directors will (finally) have their annual meeting, and we are sponsoring a CXC Talk & Teach on "Taking the Pain Out of Drawing" with Kriota Willberg at 3 pm at the Billy Ireland Library. Then at 6 pm, we'll be gathering at The Village Idiot, a nearby bar, to hold an Irish Wake for the Pulitzer Prize for Editorial Cartooning.
FRIDAY 10/7/22
Friday, Oct. 7, on the other hand is packed. The entire morning has been set aside for our long-overdue Business Meeting, where a great deal of decisions need to made, followed by an afternoon of panels at the Billy Ireland including our first big one, "Awards: Do They Still Matter?" at 1 pm. After the CXC Opening Reception from 5-7 pm, the AAEC is proud to sponsor "A Night with Keith Knight" at the Wexner Center Theater at 7:30pm. Then we'll join the CXC at the Friday Night Afterparty at Seventh Son Brewery at 9 pm.
SATURDAY 10/8/22
Saturday, Oct. 8, everyone moves downtown to the day-long CXC Expo at the Metropolitan Library from 11 to 5 pm. Once again we will have a booth where you can meet the public and sell books. At noon the AAEC hosts the panel "Cartooning in a Post-Truth World," followed by a special presentation of the new feature-length Bill Mauldin documentary, "If It's Big, Hit It." Then, at 6pm, we'll get together for the evening at the nearby Seventh Son Brewery for our annual awards reception.
SUNDAY 10/9/22
Everything slows down on Sunday, Oct. 9. We know that's a big travel day for a lot of people, but the AAEC will still be running our table at the second, shorter Expo day downtown from 1 to 5 pm, and hanging out until the festival is over.
A full schedule of events is available for download here: 2022 AAEC Program Final. For more information on the CXC program, click here: Cartoon Crossroads Columbus
Deadline to register for the 2022 AAEC Convention is FRIDAY, SEPTEMBER 23.
Again, the CXC Festival is free and open to the public, but you must sign up for the AAEC gathering separately for access to our private events, and to sell books at our tables in the Expo & Book Fair on Saturday & Sunday.
AAEC Member or member guest = $125
NCS or CRNI member = $125
Student Member = $50
Non-member = $140
Child (8-18) = $25
Child (7 and under) = $0
Membership dues must be current in order to attend at member rates.
Click on the above button to register online. That deadline again is SEPTEMBER 23, 2022.
Questions? Contact us at editorialcartoonists@gmail.com
Reserve your hotel room now!
AAEC members have several overnight options during the convention. The Hotel LeVeque is the main CXC hotel, and right around the corner from the Columbus Dispatch. The convention rate is $229+taxes a night. This rate is good from Oct. 5 to Oct. 10. Click here to make your reservation today:
Book your room for the AAEC Convention
DEADLINE TO BOOK YOUR LEVEQUE ROOM IS NOW CLOSED.
You can also get a room at the Holiday Inn–Capitol Square, which is less expensive and closer to the CXC Expo & Book Fair at the Metropolitan Library. Their rate is $190+taxes a night and room availability is limited. Click here for availability and reservations:
If you're considering coming to this year's convention, don't delay in getting your room: The hotels are available to all cartoonists attending this year's CXC, not just the AAEC. (That's our way of saying the deadline is really sooner than you think.)
About the AAEC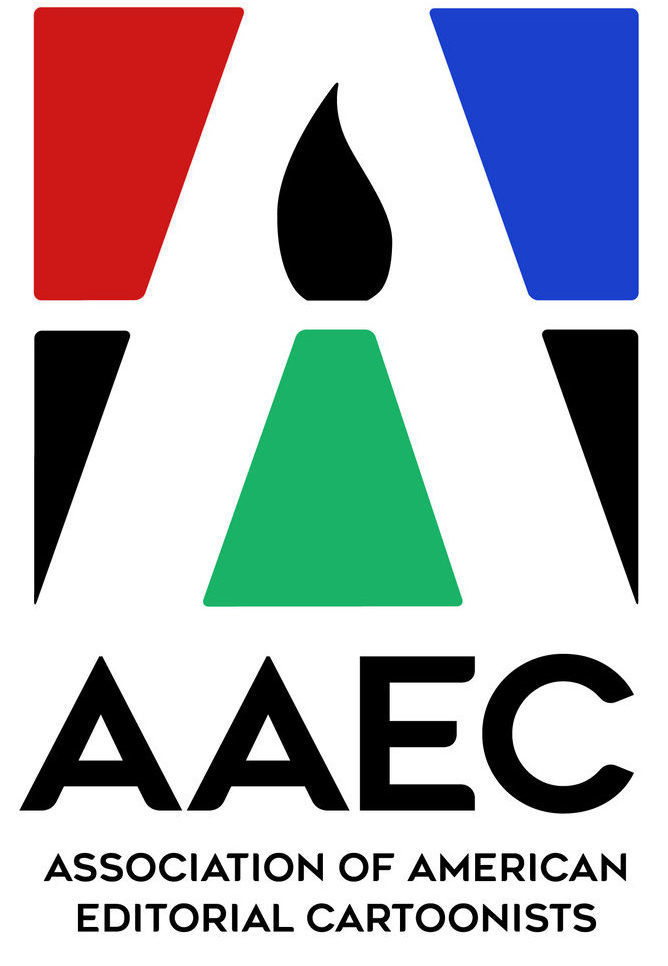 The Association of American Editorial Cartoonists is dedicated to the promotion of political art in American life and the celebration of free speech and a free press as essential to a healthy democracy.
JOIN TODAY!
AAEC, PO Box 160314, Sacramento, California, 95816
@AAEC_Cartoonist
704.412.1168